Navigating the bustling streets and crowded highways of Orange County, California, can sometimes feel like an obstacle course. With one of the highest population densities in the U.S., Orange County is no stranger to traffic congestion and, unfortunately, car accidents. The aftermath of a car accident can be overwhelming, as victims grapple not just with physical injuries, but also with emotional trauma, mounting medical bills, lost wages, and the intricate labyrinth that is the legal system.
During such times, you need more than just a lawyer; you need a partner who can guide you through this complex process, and help you on your path to recovery. The Orange County personal injury lawyers at the Law Offices of Brent W. Caldwell, we're not just attorneys; we're advocates who stand beside you every step of the way. We're committed to providing comprehensive legal assistance to car accident victims in Orange County, combining a deep understanding of the law, extensive experience, and a genuine concern for our clients.
Types of Car Accidents in Orange County
The busy roads of Orange County are a stage for various types of car accidents, each with its unique circumstances and legal considerations. Our experience covers a broad spectrum of accident types, including but not limited to: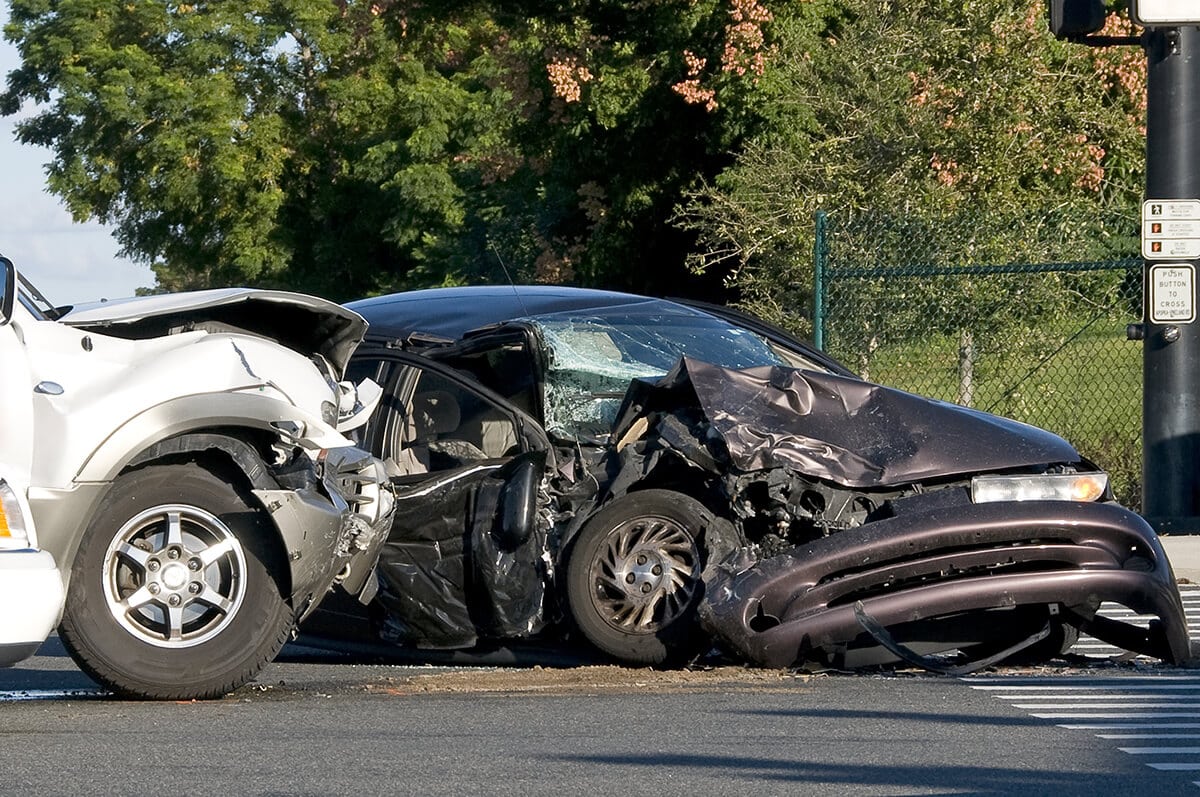 Head-on Collisions - These occur when two vehicles crash front-to-front. Often due to wrong-way driving or loss of control, these accidents can lead to severe injuries given the high impact of the collision.
Rear-end Accidents - One of the most common types, these happen when a vehicle hits the one in front. Usually a consequence of tailgating, distracted driving, or sudden braking, these accidents can cause significant neck and spine injuries.
T-Bone Accidents - Also known as side-impact or broadside collisions, these occur when the front of one vehicle strikes the side of another, forming a "T." Common in intersections, these accidents can result in serious injuries due to the limited protection on the sides of vehicles.
Hit and Run Accidents - When a driver involved in an accident flees the scene without providing their information or aiding the injured, it's a hit-and-run situation. These cases require diligent investigation to identify the at-fault party.
Multi-Vehicle Accidents - Often occurring on busy highways, these involve three or more vehicles. Determining liability can be complex due to the multiple parties involved.
Pedestrian Accidents - These accidents occur when a vehicle hits a pedestrian. Given the vulnerability of pedestrians, these accidents can lead to severe, sometimes fatal, injuries.
Bicycle Accidents - Cyclists sharing the road with motor vehicles can sometimes result in collisions. Similar to pedestrian accidents, cyclists have little protection, and these accidents can result in significant harm.
Each of these types of accidents requires a different approach and careful understanding of the circumstances. Regardless of the type of car accident you've experienced in Orange County, we are equipped to help guide you through your legal journey.
Common Auto Accident Injuries in Orange County
Car accidents can result in a range of injuries, some more severe than others. Your physical and emotional well-being is our priority, and we're committed to securing compensation that reflects the impact of your injuries. Here are some of the most common injuries that victims in Orange County may suffer in car accidents:
Whiplash -  This is a neck injury due to forceful, rapid back-and-forth movement of the neck, like the cracking of a whip. Whiplash is especially common in rear-end car accidents.
Traumatic Brain Injuries (TBI) - These injuries can range from mild concussion to severe brain damage, often resulting from a violent blow or jolt to the head during a collision.
Broken Bones - The impact of a car accident can easily break bones. Fractures to the arms, legs, ribs, and collarbone are particularly common.
Spinal Injuries - These can range from herniated discs to more serious conditions like spinal cord damage, which could result in partial or complete paralysis.
Internal Injuries - The force of a collision can cause internal bleeding or damage to organs, which can be life-threatening if not promptly treated.
Cuts and Bruises - Though seemingly less serious, these can lead to significant blood loss or become infected if not properly cared for.
Psychological Trauma - Car accidents can lead to emotional distress, including conditions like post-traumatic stress disorder (PTSD), depression, or anxiety.
Recognizing the full extent of these injuries, and how they can impact your life, is essential in making sure you receive fair compensation. Our team will work diligently to highlight the full impact of your injuries as we represent your interests.
Why You Need an Orange County Car Accident Lawyer
The legal and insurance aspects of car accidents can be complex. We're here to shoulder the burden for you, ensuring you're treated fairly by insurance companies and your legal rights are protected. Choosing the right attorney after a car accident can make a significant difference in the outcome of your case. With our team by your side, you can focus on healing while we handle the legal intricacies of your case. Our goal is to secure the compensation you deserve, allowing you to move forward from this challenging chapter in your life.
What Our Clients Are Saying
"This is a HUGE THANK YOU to Brent Caldwell for handling my case with such professionalism and amiability! He made me feel so comfortable throughout the whole process and kept me informed through emails and personal phone calls every step of the way. I would recommend him to anyone and everyone who is in need of a super personable, professional, and successful lawyer! Thank you, Brent!"
-Shelby B., via Yelp
"This law firm is top-notch. Brett is an incredible attorney. He is so patient and detail-oriented. He made me feel so comfortable from beginning to end! He knows his stuff and truly is the best of the best!"
- Lindsay S., via Yelp
8 Things You Should Do Following a Car Accident
In the aftermath of a car accident, it's essential to take certain steps to protect your legal rights. Here's a guide to help you navigate those urgent moments:
Stay at the Scene of the Accident - Do not leave the scene of the accident until it is appropriate to do so. Leaving prematurely, especially if someone has sustained injuries or been killed, can result in serious criminal charges.
1. Check for Injuries - Prioritize safety by checking yourself and others for injuries. Call for emergency medical help if anyone is hurt.
2. Call the Police - It's Vital to get an official police report for your accident, even for minor ones. This report can be an essential piece of evidence when you make your claim.
3. Get Contact Information - Gather names, addresses, phone numbers, and insurance details from all drivers involved in the accident. If there are witnesses, collect their contact information too.
4. Do Not Accept Fault - It's natural to want to apologize after an accident, but be careful not to admit fault. The cause of the accident may not be apparent immediately and could involve factors you're unaware of.
5. Document the Scene - If you can, take photographs of the accident scene, including vehicle damage, road conditions, traffic signs, and any visible injuries you sustained.
6. Visiting with an Attorney Before Contacting Your Insurance Company - Talking to an attorney before making an insurance claim can help protect your rights and potential compensation. Remember, insurance companies may try to settle quickly and for as little as possible.
7. Call the Law Office of Brent W. Caldwell - Don't delay in contacting us. The sooner we can start working on your case, the better we can preserve evidence, identify witnesses, and build a robust claim on your behalf.
While this list is a helpful guide, every accident is unique, and your actions may need to vary depending on the circumstances. In the stressful aftermath of a car accident, we're here to provide the advice and guidance you need.
Why Choose The Law Offices of Brent W. Caldwell
Deciding on the right legal representation after a car accident is a paramount decision. Here are reasons why we believe we are your best choice:
Experienced and Knowledgeable - We have years of experience representing clients in car accident cases in Orange County. This gives us a deep understanding of the complexities of California's traffic laws and local court systems, which we leverage to your benefit.
Personalized Approach - We understand that every case is unique. We take the time to listen to your story, understand your concerns, and tailor a strategy that aligns with your specific needs.
Our No Win No Fee Guarantee - We touch more on this below.
Proven Track Record - We have a successful history of obtaining compensation for our clients in a variety of car accident cases. While we can't guarantee a particular outcome, we promise to work tirelessly to seek the best possible result for you.
Committed to Your Recovery - Our goal extends beyond the courtroom. We're committed to your overall recovery. We can help coordinate your medical care and negotiate medical bills, while we handle your legal battle.
Comprehensive Legal Service - From gathering evidence, and negotiating with insurance companies, to fighting for you in court, we handle every step of the process. This allows you to focus on healing and recovery, knowing your legal matters are in capable hands.
Highly Responsive - We pride ourselves on being accessible to our clients. We keep you informed every step of the way and respond promptly to any questions or concerns you might have.
With the Law Offices of Brent W. Caldwell by your side, you gain more than just legal representation. You get a dedicated partner committed to helping you navigate the aftermath of your car accident and the complex legal system.
Rear-end auto accident
on 405 freeway
Rear-end auto accident
on 55 freeway
Rear-end auto accident
in Orange County
Our No Win No Fee Guarantee
Our "No Win, No Fee Guarantee" translates to a simple commitment to you: We only get paid when we secure a victory in your case. Operating on a contingency basis, we front the necessary costs for your case, alleviating any financial pressure from you during this challenging time.
Success in your case means not just justice served, but also our fees covered by your compensation award. We're proud of our successful track record as Orange County personal injury lawyers, but if for some reason we're unable to win your case, you won't owe us anything.
This creates a mutually beneficial scenario — we're motivated to seek the best possible outcome for your case, and you can rest easy knowing your financial obligations are contingent on your case's success.
GET THE HELP YOU NEED
TALK WITH AN ATTORNEY, FOR FREE